Solstice

Thanks to its highly resistant steel structure, timeless style and cost-effective design, the Solstice above ground pool has it all. Enjoy your summers like never before with the Solstice pool.
24' round = $2212 + tax
18' round = $1980 + tax
Price includes: Liner, pump/filter, 3 sand, vacuum head, thermometer, leaf skimmer, 30' vacuum hose, brush, skimmer, test kit, inlet, 8'-16' pole, 2 hose adapters, skim vacuum and test strips.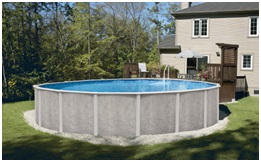 2019 Pricing
Pricing subject to change without notice.